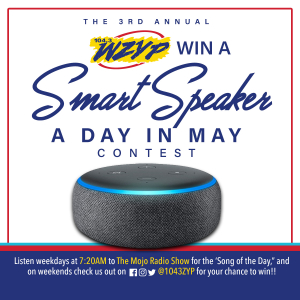 Everyday in the month of May, WZYP is giving listeners a chance to win a Smart Speaker a day during our 3rd annual "Smart Speaker a Day in May" contest!
Ways to win:
WEEKDAYS, from 7:20am to 9:00am listen for the announcement of that weekday's Song of the Day and the hour to listen to the Station later that same day for the Song of the Day to be played.  When the Song of the Day plays, call (866) 476-1043 and the tenth (10th) caller will win.
WEEKENDS, on social media (Facebook, Instagram and/or Twitter @1043wzyp, watch for the post about the Contest, then comment on each post with "Alexa, play 104.3 ZYP" and "#ZYPSMARTSPEAKERADAYINMAY".
For complete rules and details about the contest, click here.